Made in USA Multiuse, KF94 Extremely Breathable ASTM Level 3 with Electro-spun Nanofibers "Aclara Layer" - Pack of 5 Adult Masks
Regular price

Sale price

$24.00
Exclusive tech-forward respirator featuring the "Aclara Layer"—an electro-spun nanofiber layer designed and tested by material scientists from a top American university.
🇺🇸

MADE IN THE USA IN FDA REGISTERED FACILITY

This product IS NOT MADE IN CHINA. Aclarawell is committed to the environment and our products are manufactured in the United States of America in an FDA registered, ISO 13485 facility, reducing our carbon foot-print of material logistics, and supporting American workers.
TECH-FOWARD & 

REUSABLE

The "Aclara Layer" is an electro-spun nanofiber layer that is fused with rose bengal that is light-activated. The technology was developed, designed, and tested by material scientists from one of America's top universities the George Washington University (patent pending). All Aclarawell masks & respirators featuring the "Aclara Layer" are reusable until the activated layer fades to white. Reuse of this product helps reduce plastic waste when compared to traditional masks!

Rose Bengal is a xanthene organic compound that photosensitizes and used in antibacterial therapy applications.
Typical Usage:
Light Levels
Estimated Continuous Usage*
☀️ Full Sun Exposure

Approximately 8-10 hours, single work day

⛅ Partial Sun Exposure
Approximately 24 hours, or 2-3 work days
☁️ Partial Sun/In Doors

Approximately 48 hours, or 4-5 work days


💡 

In Doors Only
Approximately 72 hours, or 7-8 work days
*Usage guide is used as an example only. Actual efficacy will vary. If activated layer efficacy is in question, please replace with a new mask or respirator immediately! Usage depends on light exposure measured in lux. Full lux degradation documentation available from aclara.us. 
HIGH BREATHABILITY, HIGH STANDARDS
The high-tech "Aclara Layer" allows for a highly breathable, fully functioning mask & respirator. You can simply breathe easier in our respirator products while still maintaining a high level of filtration. 

Aclarawell masks & respirators meet ASTM Level 3 testing:
> 98% Bacterial Filtration Efficiency (BFE %)
> 98% Partical Filtration Efficiency (PFE %)
< 5.0 Delta P, mm H20/cm2 (Pressure Differential)
160

 mm Hg, high pressure irrigation (fluid resistance)

Class 1 Flame Spread (fire & flame resistance)
Masks further meet GB2626-2019 KN95 requirements—some similar to those of NIOSH N95 standards.

Further reading on the technology at aclara.us.
LOW-WASTE PACKAGING, LEAN MANUFACTURING
We are committed to developing streamlined, lean manufacturing techniques which means masks and respirators are manufactured as demand is needed, reducing waste, and decreasing carbon emissions generated by manufacturing. The ugly truth is that traditional mask and respirators produce a lot of plastic pollution and carbon emissions—especially if they are shipped by air or by sea from China. All of our products can be recycled and we are moving towards fully biodegradable products. Learn about the future of our manufacturing here.
C

ARBON NEUTRAL MANUFACTURING

Reduce your carbon footprint by purchasing Aclarawell products. We are racing to net zero emissions, and invite you to join us. For every mask you purchase, we help offset carbon emissions with partner entities, and for every mask you recycle with us, we further close the loop in plastics manufacturing and help create new products from plastic waste. 

 Product ships within 2 business days

 
What is the "Aclara Layer?"

The Aclara Layer is a proprietary, patent-pending, material layer which is made from electro-spun nanofibers. The advanced material features a mechanicial filter which contains nanopores to filter out particles larger than 0.30 microns. For reference, N95 respirators particle filtration efficiency (PFE) must meet requirements of particles larger than 0.30 microns.
Why Buy Made in USA?

Your purchase helps promote US manufacturing which reduces the stresses on the global supply chain, and reduces your carbon footprint.

Our facility is FDA-registered (Registration #301717151), and has an ISO 9001:2015 certification; and will meet CGMP and 21 CFR part 820, ISO 13485 pending.

Buying items from us Made in America not only ensures you're getting the highest quality product, but supporting American workers!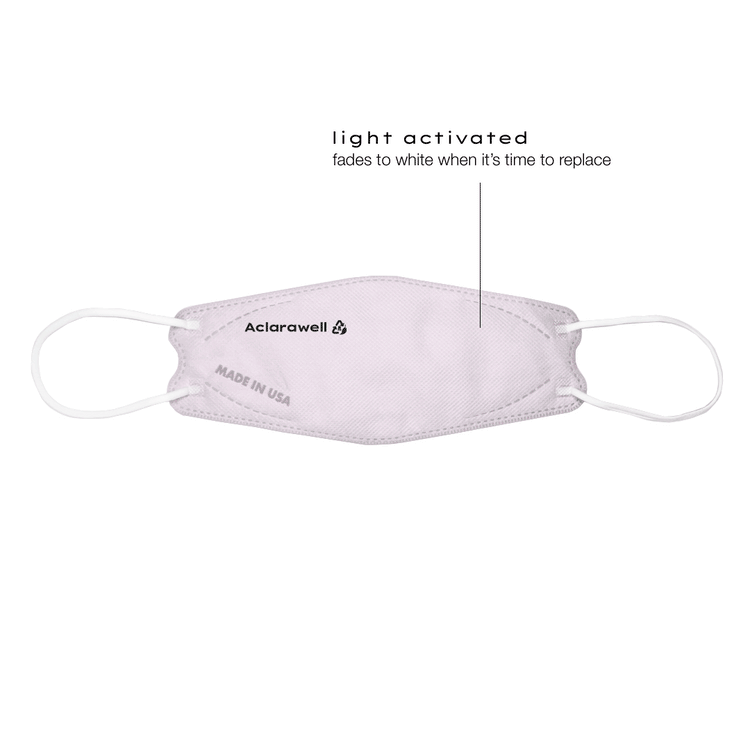 Comfortable light extremely breathable mask
Aclara mask is excellent. Best mask ever tried. light, totally breathable, fits well, wore it 20 hours straight on flight totally comfortably. worth every penny.
Great fit!
The mask is comfortable and fits perfectly! It folds in a way that's compact and makes it easy to store and carry. I also love that it lets you know when it's time to change it. Looking forward to getting more.
Interesting concept
I think this is a very interesting concept but I'd like more literature on how to use it, clean it, and store it. I'm a bit wary of its effectiveness over time.
Filter Comparison
Traditional
Nanofiber